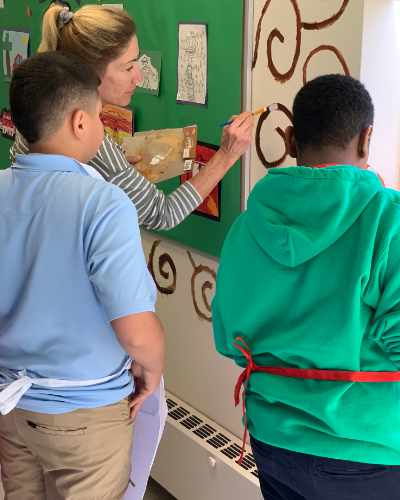 Unified Arts
I have been teaching art to grades kindergarten through 12 in Connecticut for the past 24 years.
In addition to teaching elementary and secondary school students, I also teach painting classes at a senior citizen center. I earned my Bachelor of Science in Art Education with certification to teach grades kindergarten through 12 from Southern Connecticut State University.
For as long as I can remember, I have loved to paint on traditional and not so traditional surfaces. This includes cardboard, paper, canvases, walls, ceilings, furniture, sticks, garbage cans, bicycles and more!
I find great delight in revealing a personality and purpose of any object or location with paint and other types of art media! –Much of the furniture, decor and interior walls of my home have been a focus of such visual modifications. Students and I have worked creatively and collaboratively in painting and designing art rooms and other areas within the school.
It is such a joy to observe and guide students as they learn, experiment, grow and make their own unique decisions to connect with their own art and their environment.
My husband and I, when not doting on and being entertained by our feline family, we enjoy hiking and cycling.
Karen McGinley